Antifreeze & Coolants
Coolant/Antifreeze: Regulating the heat generated by an internal combustion engine is imperative to optimizing performance and extending engine life. Hence why effective coolants and properly kept cooling systems are vital to everyday heavy-duty fleet.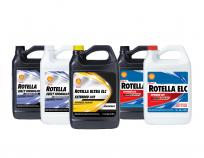 Shell Rotella ELC Coolant System:
Shell Rotella Exended Life Coolant/Antifreeze (Rotella ELC) is a "fill for life" ethylene glycol based coolant for heavy-duty diesel, gasoline and natural gas powered engines. Shell Rotella ELC contains a unique extended life carboxylate inhibitor system and nitrite/molybdate as secondary Shell Rotella ELC meets all the requirements of CAT EC-1, TMC RP 329 and RP 338. Shell Rotella ELC is available as a concentrate and as 50/50 and 60/40 volume mixtures of Shell Rotella ELC with deionized water.
Imagine a coolant/antifreeze system that required only these simple steps to achieve a service live of 600,000 miles/12,000 hours:
-          Regular visual inspection for signs of contamination
-          Annual check for freeze point
-          Use of Rotella ELC pre-diluted 50/50 for top up
-          Add Shell Rotella ELC Extender at 300,000 miles
Shell Rotella ELC's patented inhibitors, while providing complete cooling system component protection, also help reduce water pump failures, hard water scale deposits, silicate "green goo" and improve heat transfer. Test with Rotella ELC show that heat transfer is about 8% better with Rotella ELC than with conventional heavy duty, silicate-containing coolants. Over 100 million miles of fleet testing has been proven to provide complete protection of all cooling system components.
The Shell Rotella ELC product line includes:
Rotella Extended Life Pre-diluted 50/50 Coolant/Antifreeze, a 50/50 mixture of Rotella ELC concentrate and deionized water
Rotella Extended Life Coolant/Antifreeze Concentrate
Rotella Extender, the recommended recharge for extended service intervals when using Rotella ELC

Shell Zone Antifreeze/Coolant System:
 The Shell Zone Antifreeze/Coolant product line includes:
Shell Zone Green Concentrate and Premixed 50/50 Coolant/Antifreeze
Shell Zone Multi-Vehicle Concentrate and Premixed 50/50 Coolant/Antifreeze
Shell Zone Dexcool Concentrate Coolant/Antifreeze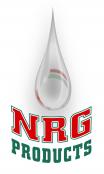 NRG antifreeze product line:
 The NRG Antifreeze/Coolant product line includes:
NRG Green Coolant Concentrate and Premixed 50/50 
NRG Heavy Duty Extended Life Coolant Premixed 50/50
NRG Global Coolant Concentrate and Premixed 50/50
NRG RV Antifreeze Premixed (-50 burst) 
Energy Petroleum carries several other concentrate and pre-mix coolant products, so please contact your friendly Energy Petroleum team for questions about these products or any other products not listed: 314-383-3700.