Ecobox
The Ecobox System efficiently delivers oil to engines and significantly reduces plastic waste.  Through its design, Ecobox can help owners and operators of oil change facilities more efficiently store, manage, and deliver oil to their customers' vehicles.  The bag containing the oil in the Ecobox carton is designed to help improve speed and ease of use compared to bottles, as it drains quickly, leaves minimal residual oil behind and requires less handling than quart bottles.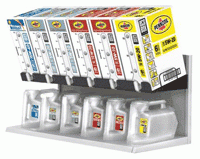 The Ecobox System is specially engineered to:
- Allow quick inspection inventory
- Drain with minimal residual oil left behind
- Help reduce plastic landfill waste vs. traditional 1-quart bottles 
- Be easily compacted and recycled
- Have one Ecobox System carton line up which works on all Ecobox System dispensing systems
- Using 89% less material, Ecobox offers a substantial decrease of landfill waste compared to the equivalent rigid plastic bottles
- One Ecobox is the equivalent to 24 quart plastic bottles
- Ecobox can be efficiently stacked with a 50% more efficient and secure utilization of storage space and transportation
- Withstand tough transportation delivery scenarios
- Help improve speed and ease over bottles by requiring less handling than quart bottles
- Offer a wide range of specialty oils with added convenience
Undoubtedly, the Ecobox System will change the way you do business at your location!  It is designed to improve speed and ease of oil changes, making your location much more efficient!  The Ecobox does not use electricity, does not come with any bulky drums, leaves zero mess, and is much better for the environment!  Improve your business TODAY by contacting us about the Ecobox System!
Please contact a friendly Energy Petroleum lubricant specialist regarding questions about this product or any product that may not be listed.  
Please email orders@energypetro.com or call 314-383-3700 to place your order today.  
Questions about this product? Submit an inquiry here!