Fleet Fueling & Mobile On-Site Fueling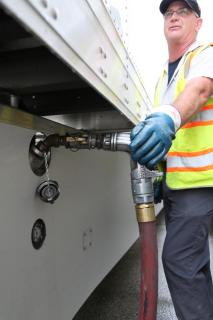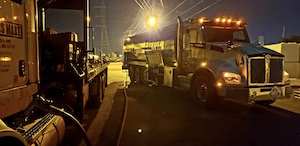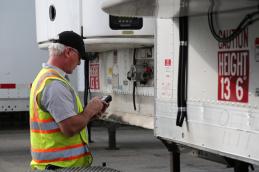 Energy Petroleum Company's Fleet Fueling service provides your company's fleet diesel or gasoline, day or night, accurate and dependable service. Energy Petroleum offers a transportation logistics system which offers a feature-rich, real-time solution for processing orders, managing dispatch functions and digitally capturing delivery information. The unique design of the truck dispatch software, provides a high degree of core functionality. The system fully accommodates our tankwagons, transports and fleet fueling operations. The system utilizes a handheld computer, found in the cab of each truck. Hand held computers are used for deliveries made by both tankwagon and transport, as well as operations or in environments where fleet fueling is required. All approved handheld devices offer portability, signature capture and barcode scanning. Energy Petroleum trucks are equipped with thermal printers, and drivers can be outfitted with belt-mounted printers to accommodate customers' requirements. Energy Petroleum trucks are also equipped with document scanners helping in invoice turnaround times and invoice reconciliation. Our software enables Energy Petroleum to take complete control over our trucks, employees and inventory; the three most costly components of our business, thus increasing our productivity and providing significant cost savings to our customers and allowing them access to our fleet once unheard of in the industry. Energy Petroleum has been a forerunner in the fleet fueling market and continues to lead the way with our transportation logistics program.
Benefits of Fleet Fueling:
Customized service to meet your needs
Emergency fueling services 24 hours a day, 7 days a week, 365 days a year
Cuts miscellaneous charges on company credit cards
Equipment is fueled and ready when employees return to work
Fueling directly into your equipment
Generator fueling
Eliminate need for on-site fuel tank storage
Companies who benefit: 
Operations at strip centers and leased properties
Construction sites
Equipment operators on small job sites
Companies requiring generator fueling
Companies who fuel refrigeration units
Companies with temporary job sites
Truck fleets of any size
Companies whose vehicles are parked overnight in one central location
Fleet fueling applications are a perfect candidate to take advantage of the bar coding portion of our system.
What does Energy Petroleum Offer?
FEATURES
Barcode Scanning 
Back Office Integration
Paperless Delivery Records
Printed Receipts with Signature Capture
On the Spot Pricing
BOL Tracking
Flexible Reporting
INFORMATION CAPTURED
Vehicle Identification Numbers
Gallons Per Vehicle
Time Vehicles were filled
Type of Product per Vehicle
Total Gallons By Product for the Stop
BENEFITS TO YOU, OUR CUSTOMER
Your order is dispatched and all delivery functions are performed in a paperless environment
Maintain up-to-the-minute inventory control
Reduce time from delivery to invoice
Better Manage your deliveries
Ability to track Energy Petroleum trucks for total fleet management
Saves you time and money
FLEET FUELING APPLICATIONS
The system allows Energy Petroleum to track fueling locations easily with GPS technology, capture vehicle identification numbers, product delivered, gallons delivered, and verify the time each vehicle was fueled.
How does it work?
1) Orders Dispatched Wirelessly to Truck
Order arrives on handheld in the truck
2) Driver Arrives at First Stop
Opens order on the handheld
Display special instructions for that stop
3) Driver Begins Fueling
Scans first truck with handheld
Leather swilling holster for hands free operation "Nylon Swiveling"
Handheld communicates wirelessly with truck
View gallons on handheld
Truck Completed
Scan next vehicle
Begin fueling next vehicle
Repeat (scan & fuel until order is complete)
4) Wirelessly Transmit Data to Server
Data received seconds after order is closed
Edit tickets (if needed) –  The driver can make notes, but is unable to change the data coming from the meter. This ensures data integrity. (Fraud prevention)
Post fueling detail to the web
Post fueling details to your accounting system
Run fleet fueling reports activities
Call or email now for your free business analysis and see how Energy Petroleum's Fleet Fueling program can work for you so your assets can work for you!  
Please email sales@energypetro.com or call 314-383-3700 to inquire today!