Lubricants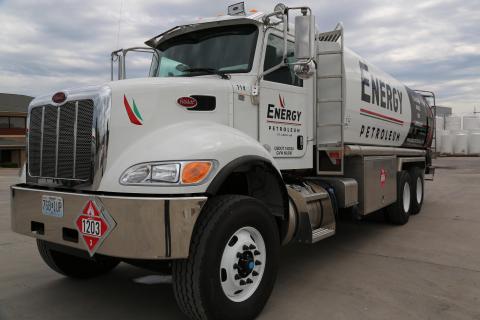 Energy Petroleum Company is a Shell Alliance Distributor serving customers throughout the Midwest with top quality Shell Lubricants for every application. Energy Petroleum has the ability and resources to meet your company's wholesale lubrication needs.
Energy Petroleum knows the automotive, agriculture, construction, energy, forestry and paper, manufacturing, mining, oil, gas, and railway industries through and through. The high-durability Shell lubrication technologies deliver advanced equipment protection and operation performance in some of the world's most challenging working environments. We also offer specialized lubrication services to help ensure the best performance for your operations and equipment.
All our lubricants have been formulated to meet the varied demands of the industry and the equipment on which it depends. We are proud to put our expert knowledge to use in offering customizable services for your business, as well as the best lubricants for the job.
Aggregate/Mining Grease
Metal Forming Fluids
Antifreeze/Coolant
Mineral Spirits
Artic Oils and Greases
Mist Lubricants
Base Oils
Multi-Purpose Greases
Bearing Lubricants
Natural Gas Engine Coolants
Circulating Oils
Natural Gas Engine Oils
Compounded Gear Lubricants
Oil Absorbents
Compressor Lubricants
Oven Conveyor Lubricants
Concrete Form
Oil Paper Machine Lubricants
Coupling Grease
Process Oils
Cutting Fluids
Quench Oils
Diesel/Gas Engine Oils
Railroad Oils
EDM Fluid
Refrigeration Oils
Electric Motor Grease
Rock Drill Lubricants
Environmentally Friendly Oils
Rust Preventatives
Extended Life Coolant (ELC)
Spindle Lubricants
Fire Resistant Fluids
Steam Cylinder Lubricants
Synthetic/High Temperature Grease
Food Machinery Grease
Transformer Oils
Food Machinery Lubricants
Transmission Oils
Forest Products
Turbine Oils
Gear Lubricants
Water Soluble Coolants
Heat Transfer Oils
Way Oils
Hydraulic Oils
White Oils
In-Process Cleaners
Windshield Washing Fluid
Marine Lubricants
Worm Gear Lubricants
Energy Petroleum is a also a proud supplier of other quality brands of lubricants, including our house brand, NRG Lubricants, and Mystik to name a few. To find more information about Energy Petroleum's lubricants, please contact an Energy Petroleum Lubricant Consultant at 314-383-3700.